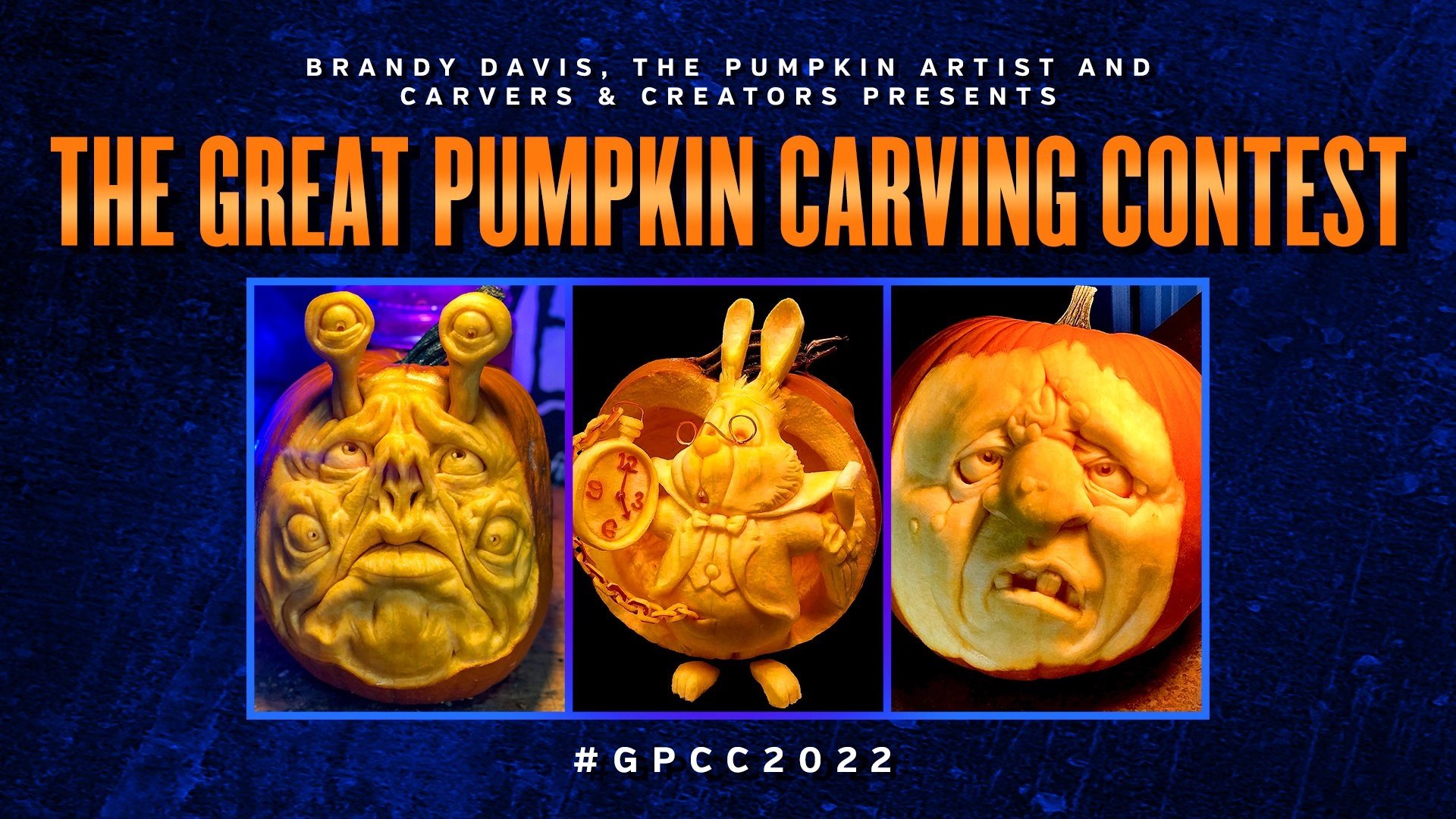 *** CONTEST HAS NOT STARTED ***
See this Instagram post for more information on the 2021 winner.
_________________
It's time to sharpen your carving tools!!
ENTER YOUR CARVING TO WIN! Master pumpkin carver Brandy Davis, The Pumpkin Artist, has teamed up with the boys of Carvers & Creators, Paul Dever and Matt Harper to bring you the most amazing pumpkin carving contest in the world: The Great Pumpkin Carving Contest 2022!
_________________
Entering is easy! (All 3 steps MUST be completed for an eligible entry):
✖ 1) Just snap a picture of your carved pumpkin and upload it to Instagram. (Carving MUST be from this year to be considered! If you've previously competed on a Food Network show as a pumpkin carver, you are ineligible for entry.)
✖ 2) Tag your photo with an @ mention to both @the_pumpkin_artist and @carverscreators and hashtag # your photo entry with #GPCC2022
✖ 3) Follow both @the_pumpkin_artist AND @CarversCreators on Instagram
Be sure to tag a few friends with an @ symbol in your photo and challenge them to join the contest!
The winner will be announced on Halloween Day, October 31st, 2022!
One awesome carver will win a prize pack with awesome stuff from The Pumpkin Artist and Carvers & Creators, including:
✖ $300 (USD) cash prize
✖ A spot as a featured guest artist on one show by Carvers & Creators
✖ A signed copy of The Peculiar Book of Pumpkin Poetry by Brandy Davis
✖ Carvers & Creators custom packaged pumpkin carving toolset
✖ Custom carving tool pack of The Pumpkin Artist's Favorite Pro Tools
✖ Peculiar Pumpkins merch
✖ Carvers & Creators merch
__________________
(This contest is in no way sponsored, endorsed, administered by, or associated with Instagram.)